Area Attractions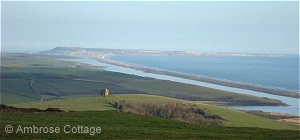 St Catherine's Chapel, Chesil Beach and Portland
Abbotsbury and Chesil Beach
About 9 miles east from here, Abbotsbury is a charming little village near Chesil beach, with thatched cottages, a village shop and arts-&-crafts galleries. Its attractions include Abbotsbury Swannery, Sub-Tropical Gardens and the 14th Cent. St. Catherine's Chapel (open all year). Also the Ilchester Arms is a 400 year old coaching inn on the main street - a great place to eat in the centre of the village. The journey there and back on the coast road has spectacular views of the coastal countryside.
Bridport
Bridport has been famous for rope and net making since Saxon times. Long passageways between the houses of South Street and East/West Streets were used to spin long lengths of shipping rope, and one company is still located here. Bridport supplied the goal nets for England's football World Cup victory in 1966 and also supplies Wimbledon's tennis court nets. The river Asker, just east of the town, runs 1½ miles down to the sea at West Bay (called Bridport Harbour until renamed in Victorian times).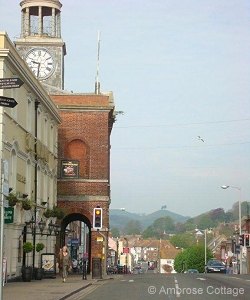 Bridport: West Street looking west, with the clock tower of Town Hall on the left and Colmer Hill in the distance.
Bridport is also famous for many antique/bric-a-brac and vintage shops, and for its twice-weekly street market on Wednesdays and Saturdays where you can often see celebrities walking in the crowds. This has flea/antique market stalls but traditional stalls too, selling local goods: plants and flowers, fruit and veg, fish, fabric, fossils, clothes and local Dorset fare. The town also has 11 charity shops, antiquarian bookshops and a monthly antique book fair on the first Saturday of every month at St. Mary's Church Hall, South Street.
A thriving historic town with a good museum (in South Street) and Family History Centre (in Gundry Lane), Bridport has a nice modern atmosphere too with many cafeterias and good restaurants. There is often music from buskers and bands in Bucky Doo Square, a site named after either the 1260 'Bocardo' lock-up at St Andrew's Chapel or the 'Buck and Doe' pub which stood near the site in 1630. The square is now a popular meeting place as well as the location of a monthly farmer's market. In the Electric Palace (an old theatre) you can catch also music, film and drama, and have a snack or meal. The Arts Centre in South Street has events and exhibitions too, and also has its own café. The town's annual carnival in August dates back to an annual chartered fair granted by Elizabeth I in 1554.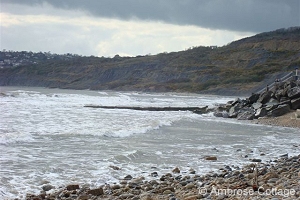 Charmouth beach at high tide on a stormy day
Charmouth and Lyme Regis
Charmouth beach on the Jurassic coast is 5 miles west of Bridport and a great place to look for fossils. It has a stony beach and sandy bay at low tide, safe for bathing. The village has plenty of parking, a shop, cafe and an interesting fossil museum and shop.
Lyme Regis is a historic town about 3 miles further on with its famous Cobb harbour (scene of filming in The French Lieutenant's Woman), safe sandy beach and many shops. Parking is difficult in the town in peak season, but there is a car park just outside Lyme from where the harbour is just a short (if steep!) distance to walk.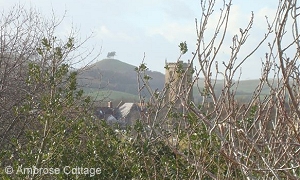 Colmer Hill with (foreground) the Bridport church of St Mary's (view from Ambrose Cottage upstairs rear).
Colmer Hill, Symondsbury
Colmer Hill at Symondsbury is a local beauty spot about 3 miles west of Bridport - a symmetric shaped hill with a small clump of trees on the top (from where great local views can be had). Symondsbury itself is a tiny village but worth a visit, with a good pub restaurant, a pottery and a herb nursery.
West Bay
Situated 1½ miles south of Bridport, West Bay is a quaint harbour village at the mouth of the river Asker. Historically known as Bridport Harbour, it was renamed West Bay in the mid-1800s when the explosion of new railways led to its becoming an attractive and easy-to-reach area for new Victorian residents.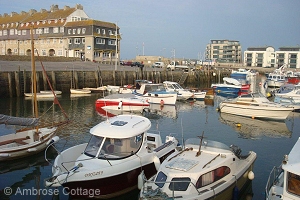 West Bay harbour boats.
Lots of colourful fishing boats sail from here. There are also water taxis to Lyme Regis and mackerel fishing trips available too. Several pubs here sell homecooked food, plus there are cafés and an excellent fish restaurant (said to be frequented by a Rolling Stone!). West Bay also has a church, a good fishmonger selling locally caught fish, shops selling fishing tackle, craft shops and tourist souvenir shops.
The South West Coastal Path passes through West Bay, making it a popular stop-off point for visitors to Dorset's famous Jurassic coast (with World Heritage status) - so called because of the amazing fossils from the Jurassic period found all along the Dorset cliffs. It really is a lovely coast for walkers.
| | | |
| --- | --- | --- |
| West Bay - coastline looking west. | | West Bay - coastline looking east. |
Further items will be added soon
See our useful links for information about other tourist destinations in the area.